The USD/JPY pair has risen by 190 points over the past two days and this raises the question: what was stronger – the fear of a stock market decline with the threat of a US war with Iran or the belief in the stock market growth on Trump's desire to win the presidential election for the second time. We believe that investor pragmatism will prevail and they will be more cautious in conclusions, because in the end the stock market grew not so much from Trump's energy, but from the desire of investors themselves to invest company profits in the purchase of their own shares. Now they don't have such a desire, since the middle of 2019 there has been a large players exit the market and the "housewives" are connecting to the game, which always happens before major market falls. Large investors doubt Trump's victory for the second time, and during the year we can receive more clear signals about his weak political positions. Such signals came, in fact, all the time he was in office.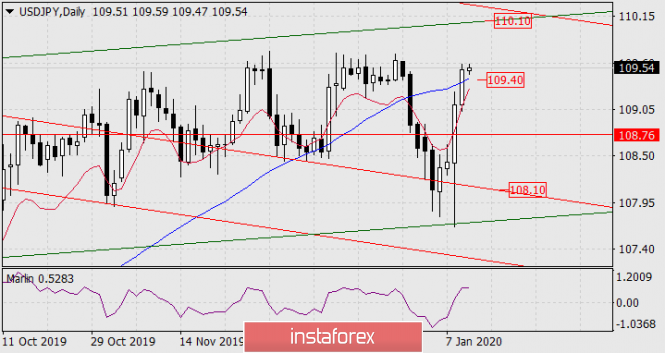 From technical positions, the price is above the MACD line on the daily chart, but to consolidate the price, you need to close the current candle above this support. The Marlin oscillator is in a growing position, target at 110.10 – the line of the ascending green channel is open. The return of the price under the MACD line (below 109.40) may subsequently turn the price down to support the red price channel in the region of 108.10.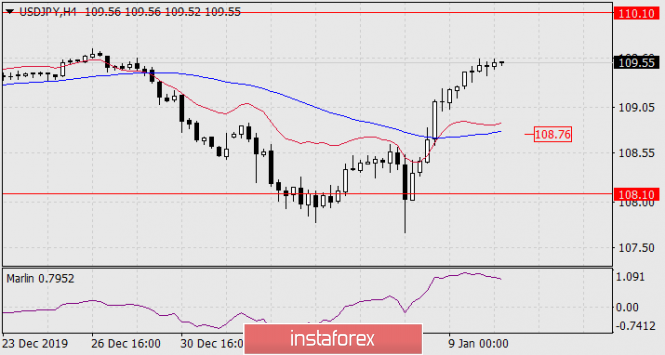 The situation is completely upward on the H4 chart. Pressure from the higher timeframe (price drift below 109.40) will direct the quote to the MACD line at 108.76. This will be the first goal on the way to 108.10.
So, USD/JPY continues to grow, but it must be taken carefully.
Origin: InstaForex