The economic docket is quite thin today, only the Michigan Consumer Sentiment stands out, with markets expecting a print of 97.2 – the lowest level since April this year.
Still, we want to take a deeper look at the USD/JPY, since we think that the main focus will be on the latest developments in the trade dispute between the US and China.
After 30-year US-T-Note-yields dropped below their 2-year pendant for the first time since 2007 (which can be considered a bearish sign for USD/JPY due to the yield sensitivity of the currency pair), yesterday's news that the Chinese government announced that the US violated the Xi-Trump agreement with the new 10% tariff, so in response it has to take necessary countermeasures resulting in a new wave of uncertainty and risk-off in global financial markets.
In our opinion, it seems as if China is sensing weakness in Trump's latest decisions, especially by delaying the announced tariffs from September to December and is now "arming up", and shifts the pressure back on the US president in regards to a new round of trade negotiations.
In this context it seems likely that the risk-off mode will persist, leaving the USD/JPY vulnerable to another stint as low as 105.00, probably deeper, while only a push back above 109.00 would switch the mode to neutral in the currency pair: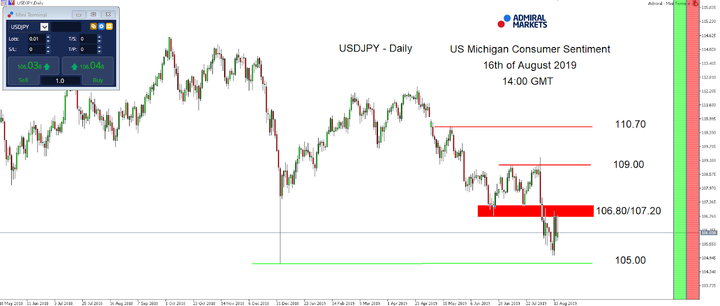 Source: Admiral Markets MT5 with MT5-SE Add-on USD/JPY Daily chart (between May 18, 2018, to August 15, 2019). Accessed: August 15, 2019, at 10:00pm GMT – Please note: Past performance is not a reliable indicator of future results, or future performance.
In 2014, the value of the USD/JPY increased by 13.7%, in 2015, it increased by 0.5%, in 2016, it fell by 2.8%, in 2017, it fell by 3.6%, in 2018, it fell by 2.7%, meaning that after five years, it was up by 4.1%.
Origin: Admiral Markets