The euro fell by 72 points on Monday, as we wrote, "under the growth scenario", and noted that a price drop below the MACD line on a four-hour scale could cancel the rising scenario.
And so it happened – the H4 price consolidated below the MACD line, but today in the Asian session it began to rise with the risk of going back over it, which suggests the Marlin oscillator in both the daily and four-hour charts.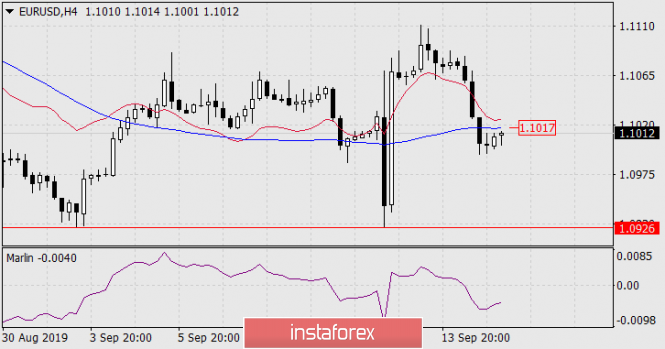 On H4, the price is critically close to the MACD line (1.1017), the exit above the line will mean the falsity of the previous consolidation under it and a further increase in price with the Marlin oscillator moving into the growth zone.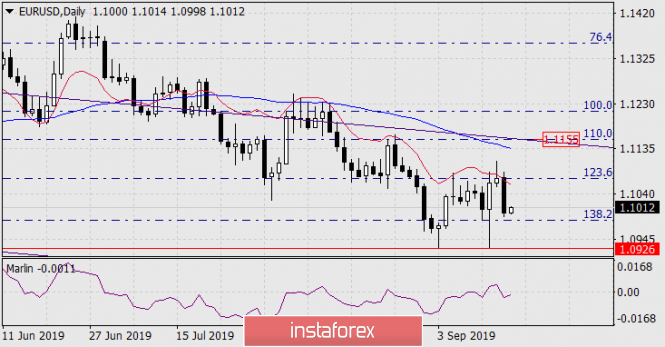 On the daily chart, Marlin is also turning up and is already close to crossing the boundary of the bull territory. The purpose of the growing movement persists – the area of conjugation of the price channel line with the Fibonacci level of 110.0% on the daily chart at the price of 1.1155.
Today, good economic data are expected, both in the eurozone and in the US, which may delay the price in the range of current levels, especially before tomorrow's Fed decision on the rate. The ZEW eurozone business sentiment index for September is expected to rise from -43.6 to -37.4, US industrial production in August is projected to increase by 0.2% with growth in capacity utilization from 77.5% to 77.6%.
Origin: InstaForex