US retail sales turned out to be good in December. Total sales added the expected 0.3%, and the November figure was revised to increase from 0.2% to 0.3%. The base index (excluding car sales) increased by 0.7% while expecting 0.5%. The index of business activity in the manufacturing sector of Philadelphia increased from 0.3 to 17.0 points in January and weekly applications for unemployment benefits showed 204 thousand – the lowest since September. As a result, the euro closed the day down by 13 points.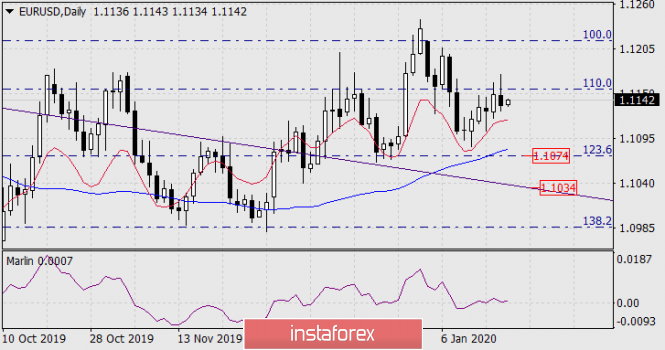 Reversal signs have not yet formed on the daily chart, the signal line of the Marlin oscillator lingered on the boundary with the territory of the bears. We are still waiting for the strengthening of down moods. US data will be released today on housing starts for December (forecast 1.38 million YOY versus 1.37 million YOY in November) and on industrial production, the forecast for which is not so optimistic: -0.2/0.0% versus 1.1% in November. But during the week, business activity indices in the regions of New York and Philadelphia turned out to be better than forecasts, which provides a chance for the December industrial output to be better than expected. We are waiting for the euro at the previous first goal of 1.1074.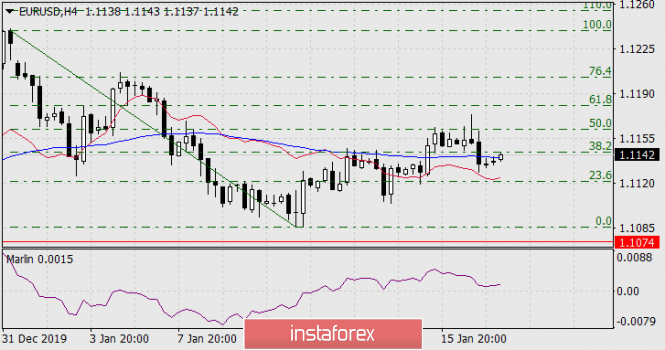 On a four-hour chart, the price managed to gain a foothold under the MACD line (blue indicator), the Marlin oscillator is trying to penetrate into the negative trend zone. We are waiting for the consolidation of falling market sentiment.
Origin: InstaForex