The British pound lost 30 points on Thursday. The price consolidated below the MACD line on the daily chart. The signal line of the Marlin oscillator is falling in the negative trend zone, but not due to the strong dynamics of the pound's decline, the balance indicator line (red) continues to hold the price, further slowing its decline. The continuation of such a tendency – a decrease in the British pound will lead to an increase in bullish sentiment, the market can take advantage of such confusion.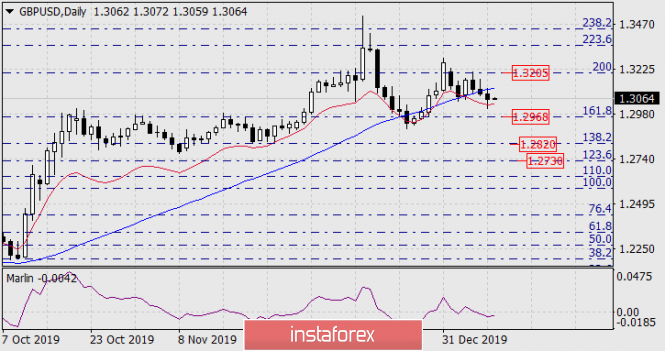 Data on US employment will be published today, the forecast for new jobs in the non-agricultural sector for December is 162 thousand, this may be an incentive to further pull down the pound to the Fibonacci level of 161.8% at the price of 1.2968. But even in this case, the pound's decline rate may not be enough to overcome the balance indicator line. If it also remains below the price by the opening of Monday, then the correction of the British pound is possible next week. The 1.2968 level is technically strong.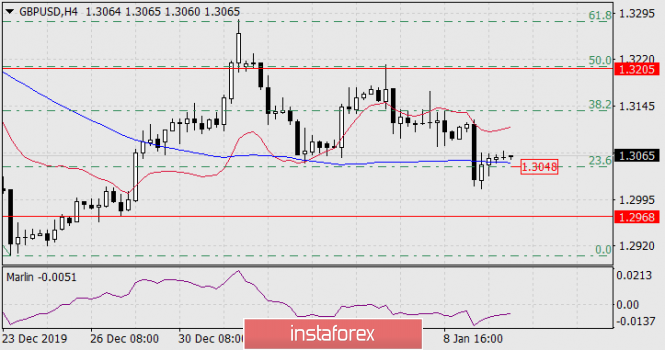 On the four-hour chart, the price consolidated below the MACD line yesterday – one candle with the whole body was under this line, but at the moment the price is already above the MACD line. Such a false signal is also a sign of a short downward movement, if any (to our target 1.2968). The Marlin oscillator is moving after the price, it is not providing signals. Another price consolidation below the MACD line, as well as under the correction level of 23.6%, will open the nearest target at 1.2968. To move the price to lower targets (1.2820, 1.2730), which are marked on the daily scale, you need a rapid movement of the price down today.
Origin: InstaForex