The restless pound on Friday repeated the success of Thursday, adding 205 points by the end of the day. On the daily chart, growth reached a Fibonacci level of 138.2%. The price reached strong record levels of the lows of August and October 2018 and the powerful consolidation zone of June 2019. From this resistance zone, we expect a reversal of at least a correction to the Fibonacci level of 161.8% at the price of 1.2548, or lower, to support the trend line of the price channel at 1.2480, or a full reversal on the negative development of the Brexit epic to the Fibonacci level of 271.0% at the price of 1.1986.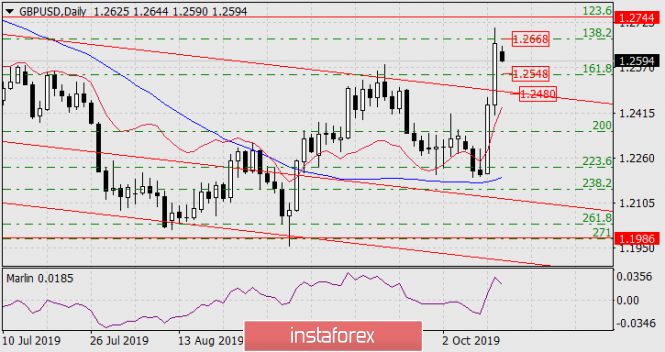 The growth scenario (after correction) will develop with a new force after the price goes above the Fibonacci levels of 123.6% (1.2744) and 110.0% (1.2815), which opens the first target at 1.2976. On the four-hour chart, the Marlin oscillator is turning down, but in the current situation this reversal is not indicative, the indicator will come into play when the signal line goes into the negative zone.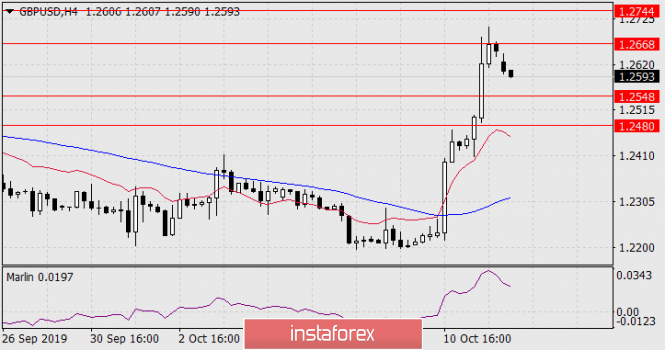 The pound is completely dependent on political events, and technical subjects will be only a visible consequence of the Brexit story. At the moment, the most likely relations between England and the EU after Brexit seem to be: a free trade agreement on the basis of quotas, trade according to the general rules of the WTO, a customs union, a single market without a customs union. The EU summit will begin on Thursday, at which this issue will be resolved.
Origin: InstaForex